PULSED ELECTROMAGNETIC FIELD (PEMF) THERAPY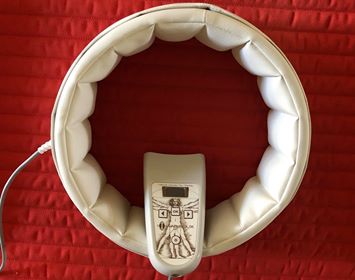 *** As a Representative Dealer for PEMF Supply, I promote a variety of PEMF products. PEMF Supply's flagship product is now the Vasindux Home PEMF Mat! Vasidux offers two Product Lines - "Pro" and "Home" ***
To access the PEMF Supply Website; and, to automatically use my dealer code to receive a discount when ordering products totalling $1000 or more, please click on the following link: REJUVENATION
*** Please check the CONTRAINDICATIONS to PEMF Therapy before ordering any PEMF products! ***
I am also an Affiliate For Oxford Medical Instruments (OMI) Heath Care Products. OMI offers PEMF Therapy Products for Humans, Pets, & Horses - Along with Salt Inhalers, Salt Pipes, Air Purifiers, & Polarized Light Therapy Lamps
Free Worldwide Delivery!
(Please Only Use The Link Above to Place Your Order)
TESTIMONIAL
"I can absolutely confirm the benefits of the OMI PEMF full body mat which Carolyn recommends. I have been using it for about 3 weeks and my joints have significantly improved, are more flexible, and less painful. After one week of using the recommended frequency setting for carpal tunnel, my hands feel no longer numb and I regained strength. I am grateful to you, Carolyn, for being soooo helpful with all the right information and advice on use ... You are an amazing healer! Very grateful!"
~ Eva F. Vienna, Austria
BENEFITS OF PEMF THERAPY
* Counteracts the Negative Effects of "Dirty EMF" Pollution *
* Stronger Bones *

* Accelerated Repair of Bone & Soft Tissue Injuries *
* Reduced Inflammation & Edema *
* Endorphin Secretion & Pain Relief *

* Alleviation of Depression *
* Prevention of Cancer & Degenerative Diseases *
* Improved CVA (Stroke) Recovery *
* Better Control of Blood Sugar Levels (Diabetes) *
* Improved, Deeper Sleep & HGH (Human Growth Hormone) Secretion *
* Better Oxygenation & Circulation, Including Microcirculation *
* Better Uptake of Nutrients & Cellular Detoxification *
* Increased Alertness & Clear-Headedness *

* Improved Skin Texture & Appearance *
* More Energy & Vitality *

* Weight Loss *
* Improved Blood Pressure & Cholesterol Levels *
* Balanced Immune System & Stimulation of RNA and DNA *
* Muscle Relaxation & Stress Reduction *
* Decreased Platelet Adhesion *
* Nerve & Tissue Regeneration *
HOW PEMF RECHARGES YOUR CELLS
* Recharges Transmembrane Potential (TMP) *
* Increases ATP Production in the Mitochandria *
* Enhances the Sodium Potassium Pump *
* Increases Cellular PH, Creating a More Alkaline Environment *
* Improves Oxygenation of the Cells *
* Lowers Blood Viscosity & Improves Circulation *
NOTE: It is not necessary to use PEMF products for 3 hours per day as the woman in purple in this video stated that she did! The recommendation for the Vasindux Products is 8-12 minutes twice per day